Back to home page
Back to photography main page
Back to equipment page
I've seen such big tables at the Photokina: impressive ...
The tubes used are referenced "950" ("840" or "865" should be fine too) in Europe and are used in graphic arts (see one example in the Philips catalog and the TL-D 90 de Luxe series), they should be close to the General Electric Chroma 50 you can find in the States.
Table with european color codes and applications.
An opal glass gives a good diffusion of the light.
A fine grounded thick (6mm, 1/4") glass covers the table a pair of inches above the opal glass.
Pay attention to rough sanded glasses, through the lupe, the coarse structure is evident and disturbs heavily the vision. If you can't find a really fine grounded glass, just use a classic polished glass, the opal glass is already a remarkable diffuser.
Some glasses are really white and not greeny (look at the edge, it's more evident) like the usual ones but, of course, they cost more.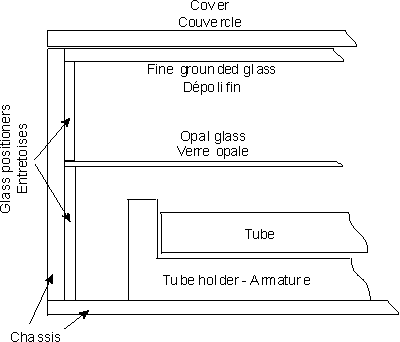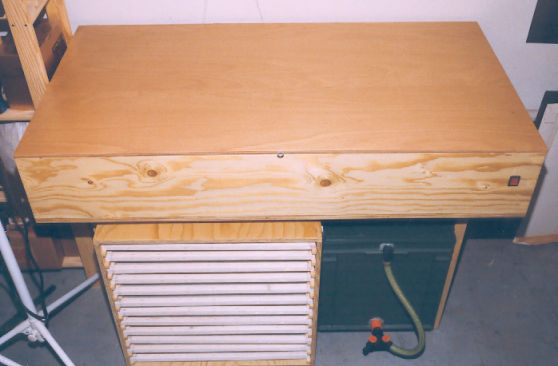 The table with the protective cover closed which allows to use it as a classic table.
Below, the paper dryer and washer (green).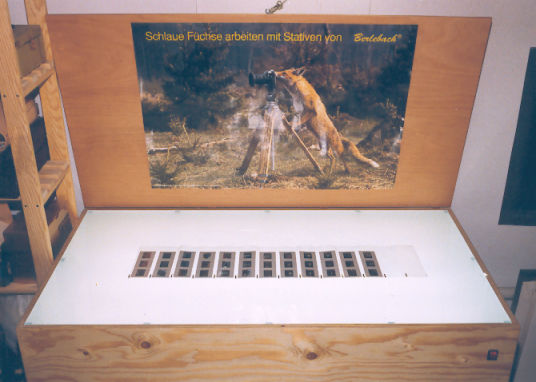 The table in action: lots of place !
The poster is an advertisement for german wood tripods (Berlebach) and the photograph was taken by Guenter Schumann.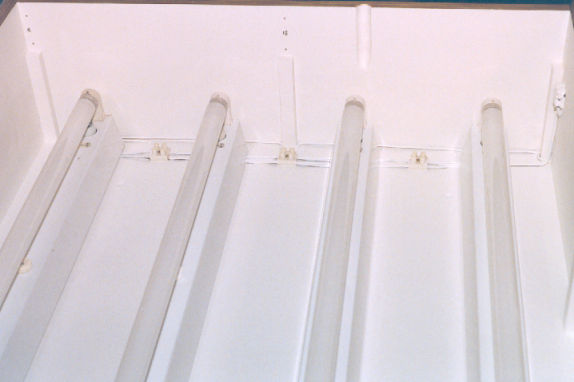 Detail of the 4 120cm (47") tubes, in the background the electrical connections.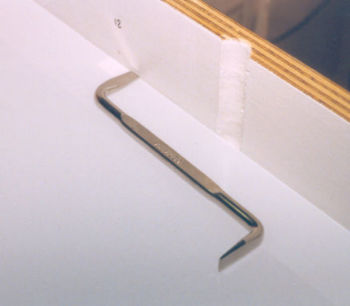 A groove was carved to allow a curved screwdriver to go under the glass and remove it.
I advise you to cover the screwdriver with plastic adhesive to avoid to chip the glass.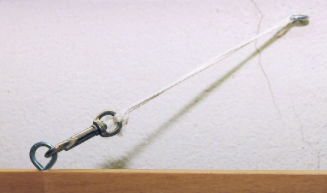 Small detail of the fixation to keep the cover open.