Back to home page
Back to photography main page
Back to equipment page
For two travels I did in the north of Scandinavia in winter, I've prepared some special equipment.
Temperatures in this region oscillate between -10 et -40°C (14 to -40°F) and there is nearly no light, it's the polar night ...
The major problem concerns the batteries that do not like such temperatures.
To continue to supply the bodies and the flash, I've realised an external battery case that I wear under my vest around my neck and cables do the electrical connection to the camera and flash.
An attachment allows the use of this power supply when the camera is mounted on a tripod.
The cameras and lenses by themselves do not create any problem, just the focusing rings that become a bit harder.
That's is in this kind of situation that famous camera brands make the difference.
Some good habits:
Don't breathe on the lens, instantaneous freezing ...
When coming back, let the equipment cool up in its bag, otherwise, instantaneous freezing ...
Charge/discharge and wind/rewind the film with a minimum of care to avoid to break it.
And pay attention to yourself: going out by such temperatures could be risky.
Summary
The power pack is made of four big batteries (6V) for the flash and two small (3V) for the cameras.

The flash power supply is much bigger than the original one and allows a much greater autonomy and smaller charging times (lower internal resistance of the batteries).

Three screwing DIN connectors allow to supply two cameras and one flash at the same time.

The case is made of aluminium and covered by soft leather (the kind that is used to dry cars).
| | |
| --- | --- |
| | The central connector is used by the flash, the two externals by the cameras. |
| | |
| --- | --- |
| | A 2.5mm female jack is screwed on a standard battery cover. |
| | |
| --- | --- |
| | A camera and its power supply. |
A 6.35mm female jack is screwed on an aluminium plate.
Contacts are made with a small printed circuit kept at the proper distance by a steel tip.
An aluminium cover keeps the whole thing inside the flash.
| | |
| --- | --- |
| | Another view of these parts with the power cord. |
| | |
| --- | --- |
| | The flash mounted with its supply. |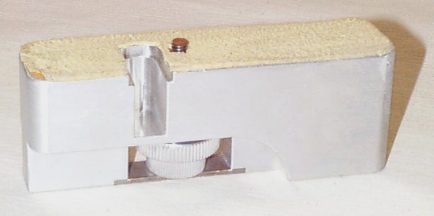 An attachment is necessary to mount a camera equipped with its external power supply on a tripod.
It raises the camera and allows the introduction of the cable jack.
The top is covered with the same soft leather to avoid to scratch the camera.
Thanks to Willy, my mechanic, for this superb part !