Back to home page
Back to motorcycling main page
92' 125 GP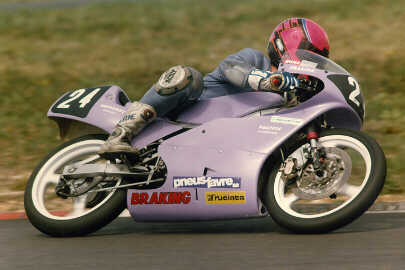 I changed category in 92 and passed to the 125 Elite class (GP machines). I bought the Honda RS125R-91, of the previous year Swiss champion. Just an advice: never buy a used bike from a champion, all what you'll have are problems ! They usually replace the special parts with the worst they have ...
During that season I broke the exhaust about five times. This machine has silent-blocks that maintain the engine and when these parts are worn you brake the exhaust ... Why have I not changed them ? I received them three months after the order (thanks Mr. Honda ...). These silent-blocks are needed because of the heavy vibrations generated by the engine (no countershaft).
At my third race in Magny-Cours, I started from the first row, not bad at all ...
I had so many mechanical problems during that year and with such an asthmatic bike, that I could be happy to have reached a final 8th rank.